April 4, 2022: Morgan and Joseph present their research at the 2022 TTU Undergraduate Research Conference
Morgan and Joseph each presented their undergradaute research projects that they started in Fall 2021 at the 2022 TTU Undergraduate Research Conference (URC).

Morgan spent the Fall measuring litter decomposition and soil respiration at the Lubbock Nutrient Network site. She found that litter decomposed faster in their home plots than it did in different treatment plots, regardless of whether litter was moved from fertilized to control plots or from control to fertilized plots. Interestingly, however, the treatments did not impact decomposition or soil respiration rates. These are cool findings that deserve further investigation!

Joseph examined carbon costs of nitrogen acquisition in soybean using a factorial soil nitrogen by nitrogen fixing bacteria inoculation experiment. He found that inoculation reduced carbon costs of nitrogen acquisition in the low soil nitrogen treatments, but not in the high soil nitrogen treatments. This work furthers our understanding of how symbioses with nitrogen fixing bacteria influences plant functioning. Joseph won 2nd place in the Agriculture and Environment category for his poster!

This work was part of a Coure-based Undergraduate Research Experience (CURE), generously funded by an NSF CAREER award, the TTU Center for Transformative Undergraduate Experiences (TrUE), and the TTU Honors College.

Great job Morgan and Joseph!!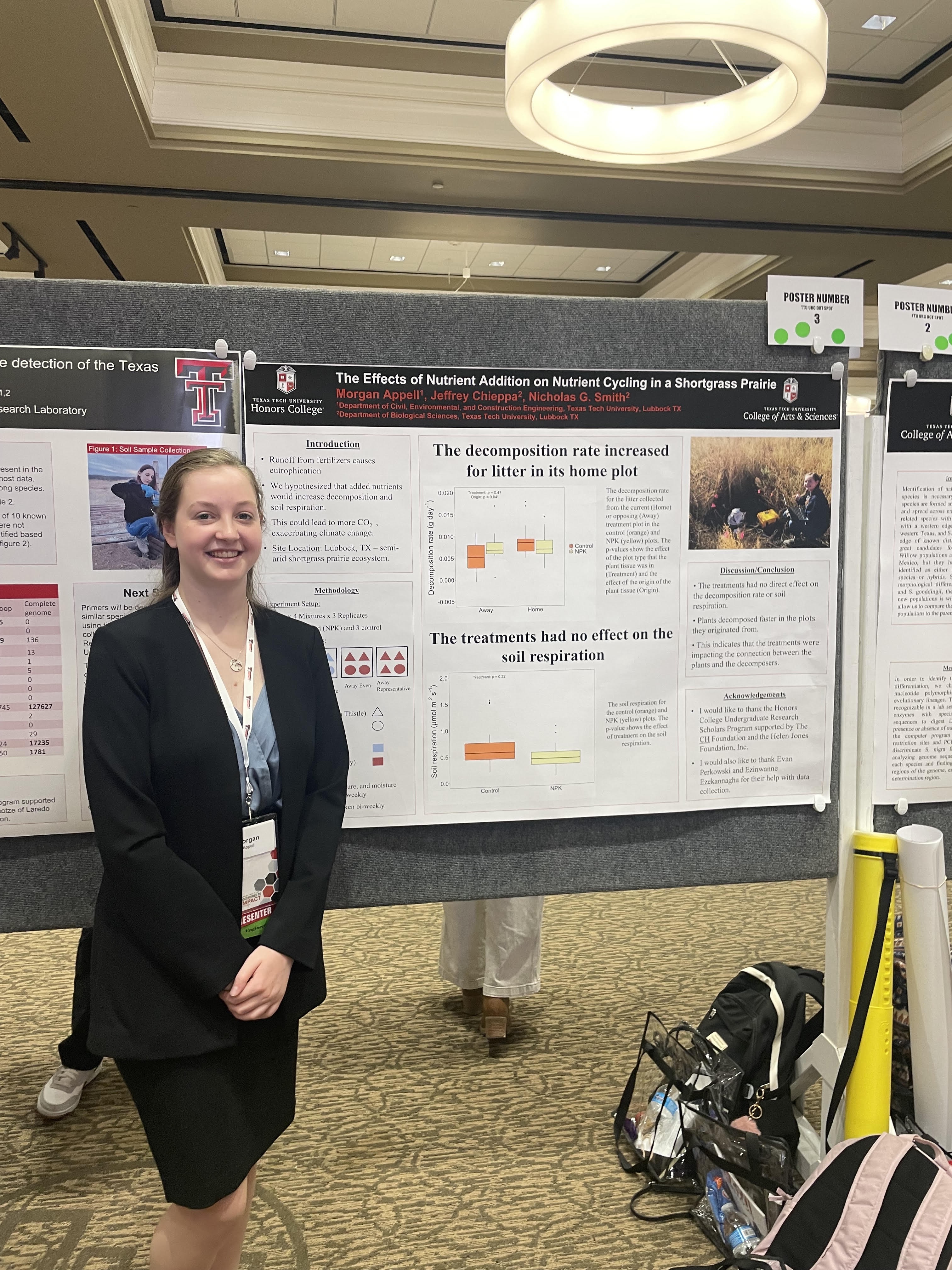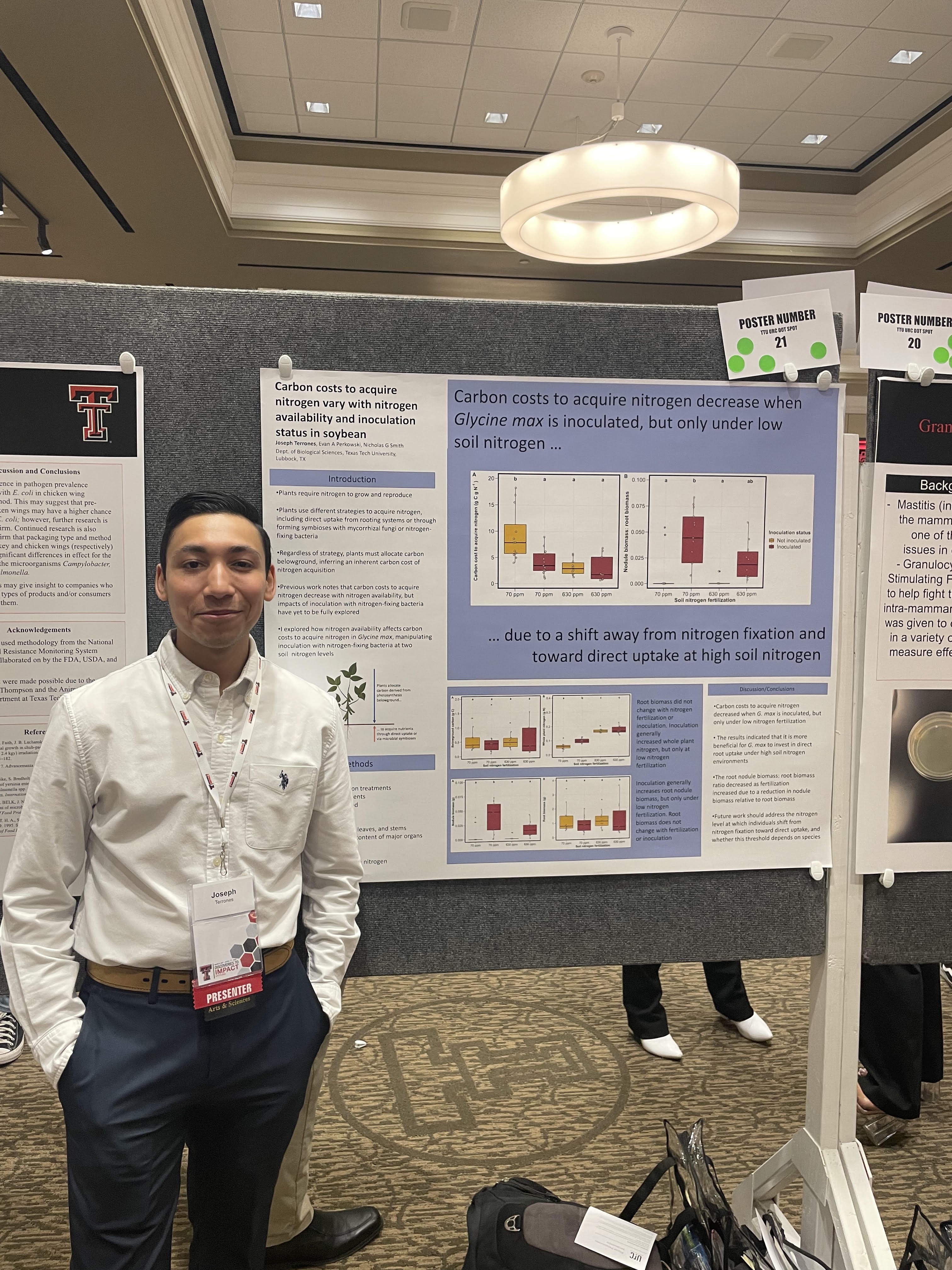 February 17, 2022: Helen's model of C4 photosynthetic acclimation published in JAMES!
Former Masters student, Helen Scott, and Nick published a model of C4 photosynthetic acclimation in Journal of Advances in Modeling Earth Systems (JAMES). The paper can be found at this link. The model code can be found at this link. The functions are also incorporated into the model of photosynthetic acclimation that is maintained by the lab and can be called using a C4 option. This model code can be found at this link.

The paper introduces a new model of acclimation of C4 photosynthetic traits based on photosynthetic least cost theory. The model is based on the optimality principle that plants should set up their photosynthetic traits such that carbon assimilation is maximized at the lowest resource use. The model predicts many traits including the ratio of intercellular to atmospheric CO2 (χ), the maximum rate of Rubisco carboxylation (Vcmax), the maximum rate of PEP carboxylation (Vpmax), and the maximum rate of electron transport (Jmax), as well as gross carbon assimilation.

The model corroborates previous studies and shows that C4 photosynthesis is most beneficial under hot, dry, low CO2 conditions. Comparisons to remotely sensed C4 cover showed that C4 presence is predictable from these responses. The model is suitable for incorporation into land surface and Earth system models and folks are encouraged to contact Nick if they would like to discuss this further.

Zinny, Jeff, and others in the lab will be following up on this work using a combination of modeling, field, and controlled environment experiments to better understand photosynthetic acclimation in a changing world.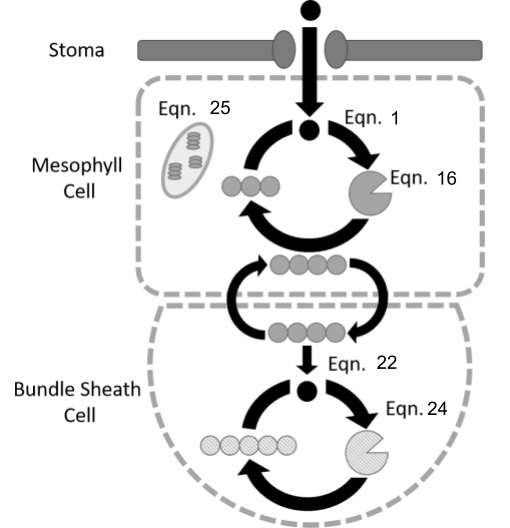 Figure 1 from the paper ("Pacman figure") showing the cellular arrangement of C4 species and the key equations to simulate acclimation of C4 processes.